About Us
Our Mission:
To provide an affordable, relaxed and holistic healing experience that will nurture your relationships in life, fine tune your body-mind complex, attract the joy you deserve and give you a sense of purpose and belonging in life.
Our Vision:
To create a transformational healing environment designed by you and amplified by community through focus, thought and intention of like-minded individuals.
Miemie de Beer
D.Emed
Introduction:
Miemie has had a keen interest in alternative health care and holistic therapies for many years, having studied a variety of modalities.
Background:
Since a very young age Miemie has been interested and involved in Healing and Alternative medicine. Some of her formalized training, background and interests include:
Reiki I and II (Usui, Traditional)
Aromatherapy
Reflexology
Iridology
Acupressure
Acupuncture
Herbal Medicine
Miemie is registered with the Allied Health Professions Council of South Africa and PCNN as a Therapeutic Reflexologist.
Areas of Speciality:
Reflexologist
Alternative medicine Therapies
Lymphatic Massage Therapy (Lymphology)
Iridology
Live Blood Analysis
Fastaid (Bodytalk)
First aid
Qualifications:
Registered with the Health council A.H.P.C.S.A/ A01344
Therapeutic Reflexologist / PCNS PR.108 000 0231517
Natural Herbal Practitioner PR No. 081048
Ethnomedicine Practitioner, D.Emed Reg. No. DEM110901245
Ethnopsychology, EPP : Reg. No. EPP110901245 (EPASA/SAEPB) Registered
IMDHA Certified Hypnotherapy: (International Medical & Dental Hypnotherapy Association USA : Qualification)
IHLCA Holistic Life Coaching (International Holistic Life Coaching Association Certification)
Ethno Massage Therapist EMT 110901245 The S.A. College of Natural Therapies

Nutrition
Plant Chemistry

Ethnobotany Certification Indigenous medicinal plant use in S.A. (EPASA)
International Qualifications:
Hormone / Thyroid T3/T4 certified Wilson's temperature syndrome (Dr. Denis Wilson, MD.)
Autism & ADD/ADHD certified Toxic Chemicals (Dr William Shaw. MD)
Iodine and Total Body Health fibromyalgia, hypothyroidism Male & Female Health IQ, Mental & Cardiovascular health Oxytocin Insufficiency and Autism (Dr.Jorge D. Flechas, M.D., M.P.H)
Herbal supplements in Practice Restorative Medicine (AARM) (Dr. Michael Friedman, ND) Executive Director for The Association for the Advancement of Restorative Medicine (AARM)
Nico de Beer (CBP)
D.Emed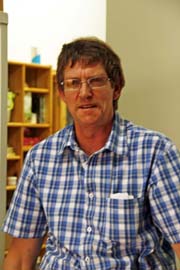 Introduction:
Body Talk Practitioner at Effleurage Health and Well Being Centre.
Background:
Nico has completed the Advanced Practical of the Body Talk System™
He is a Registered member of the International Body Talk Association.
Nico's passion is personal growth, and helping others reach optimum levels of balance and awareness.
Balancing all aspects of oneself provides a synergistic whole, rooted in love, joy and creativity. This balance is obtainable to all, for it is within ourselves.
Areas of Speciality:
Bodytalk
Reiki
Energy Balancing
Iridology
Live Blood Analysis
Fastaid (Bodytalk)
First aid
Qualifications:
International Certified Bodytalk practitioner
Ethnomedicine Practitioner, D.Emed Reg. No. DEM110901244
Ethnopsychology, EPP : Reg. No. EPP110901244 (EPASA/SAEPB) Registered
IMDHA Certified Hypnotherapy : (International Medical & Dental Hypnotherapy Association USA : Qualification)
IHLCA Holistic Life Coaching (International Holistic Life Coaching Association Certification)
Ethno Massage Therapist EMT 110901244
Ethnobotany Certification Indigenous medicinal plant use in S.A. (EPASA)
International Qualifications:
Hormone / Thyroid T3/T4 certified Wilson's temperature syndrome (Dr. Denis Wilson, MD.)
Autism & ADD/ADHD certified Toxic Chemicals (Dr William Shaw. MD)
Iodine and Total Body Health fibromyalgia, hypothyroidism Male & Female Health IQ, Mental & Cardiovascular health Oxytocin Insufficiency and Autism (Dr.Jorge D. Flechas, M.D., M.P.H)
Herbal supplements in Practice Restorative Medicine (AARM) (Dr. Michael Friedman, ND) Executive Director for The Association for the Advancement of Restorative Medicine (AARM)